Toronto's Coalition Against Israeli Apartheid issued the following statement calling for release of Khalida Jarrar and Palestinian prisoners, and providing a sample letter to send to Canadian MPs on the case:
Coalition Against Israeli Apartheid: Free Khalida Jarrar and all other Palestinian political prisoners!
On April 2 at approximately 1:30 a.m., dozens of Israeli occupation soldiers kicked down the door and raided the home of Khalida Jarrar, a prominent human rights advocate, member of the Palestinian Legislative Council, and board member of Addameer, a prisoners' rights organization. Jarrar was taken to an undisclosed location and arrested without charge.
According to Suha Jarrar, Khalida Jarrar's daughter, "my mother is an influential leader, feminist and activist. She speaks strongly and loudly against colonization and oppression. Her arrest is a reflection of Israel's ongoing tactics to attack freedom of speech and silence those who speak freely against occupation and apartheid."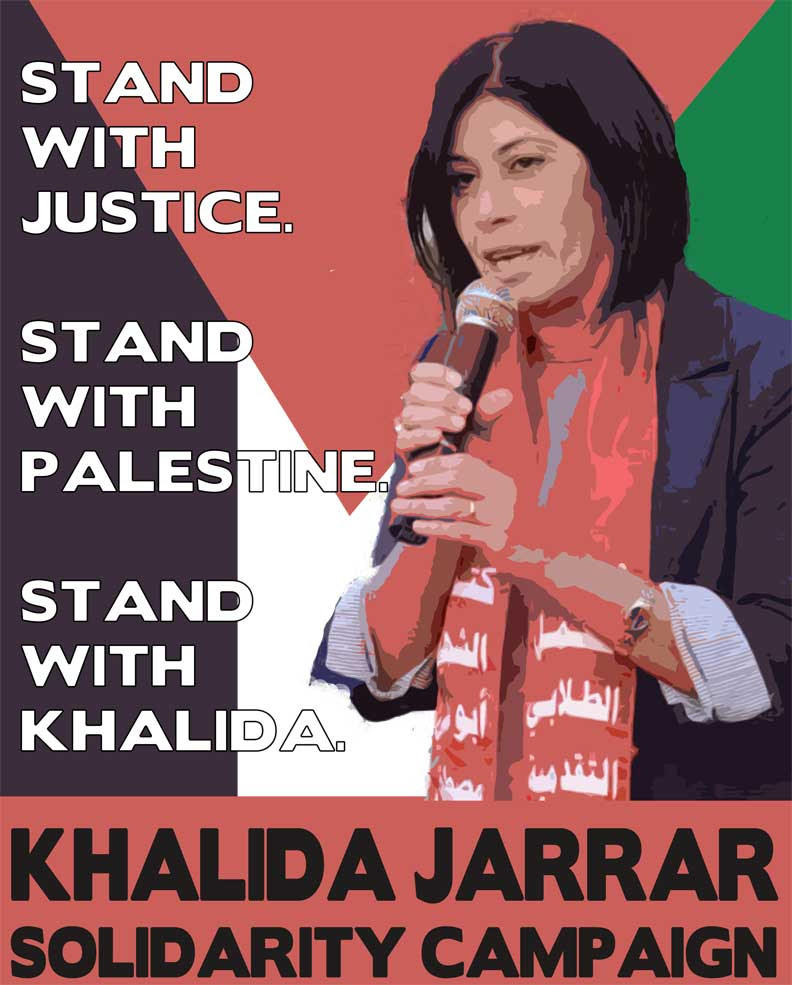 Israel is currently holding 6,000 Palestinian political prisoners in detention, including 163 children under the age of 16. Jarrar's arrest now brings the number of Palestinian Legislative Council members held in Israeli detention to 17, many of whom are being held without charge or trial. Palestinian political prisoners face systematic torture and persecution during their arrest and detention at the hands of the Israeli military.
The imprisonment of Palestinians, including Jarrar, is part of Israel's system of occupation, colonization and apartheid. This is the same system that attacked Gaza this past summer, when Israel killed over 2,000 Palestinians and wounded thousands of others.
In response to Israel's denial of Palestinian prisoners rights, Palestinian human rights organizations have called for the intensification of the global Boycott, Divestment and Sanctions (BDS) campaign against Israel. BDS targets corporations such as G4S, which maintains and profits from Israel's prison system, and SodaStream, which is manufactured on an illegal Israeli settlement, further entrenching the occupation of Palestinians in the West Bank.
In response to Jarrar's imprisonment, we vow to strengthen our BDS efforts to pressure Israel to free Jarrar and all Palestinian prisoners, and to respect international law. We urge our allies to join our efforts until Jarrar and all Palestinian prisoners are free.
Here's how you can help:
Sample text:
Dear (NAME OF MP),
At approximately 1:30 a.m. on Thursday, April 2, dozens of Israeli soldiers arrested Khalida Jarrar, a member of the Palestinian Legislative Council, after breaking down the door of her home in Ramallah. Ms. Jarrar remains in custody without charge, and it is believed that she has been moved to a prison inside Israel.
For three decades Ms. Jarrar has been a prominent and relentless advocate for women's rights, prisoners' rights, and Palestinian freedom from Israeli occupation. In another house raid last August, Israeli authorities served Ms. Jarrar with a six-month internal deportation order, which would have confined her to the West Bank city of Jericho. She refused to comply, and due to a campaign by Palestinian and international human rights activists, the deportation order was subsequently suspended. Five years ago, Israel also sought to prevent Ms. Jarrar from travelling to Jordan for urgent medical treatment, relenting only after her case received international attention.
The arrest of Ms. Jarrar targets not only her, but Palestinian society more broadly, by removing an elected and committed leader from their midst. She is not the only political leader arbitrarily deprived of their freedom, as 17 other elected members of the Palestinian Legislative Council are currently incarcerated by Israel.
I urge you to condemn this arrest in Parliament, in other public forums, and directly to Israel's ambassador in Canada.
As an elected Member of Parliament, I hope that you take the arbitrary arrest and detention of an elected Parliamentarian seriously and act immediately.
Thank you for your attention.
Sincerely,
(ADD YOUR NAME HERE)